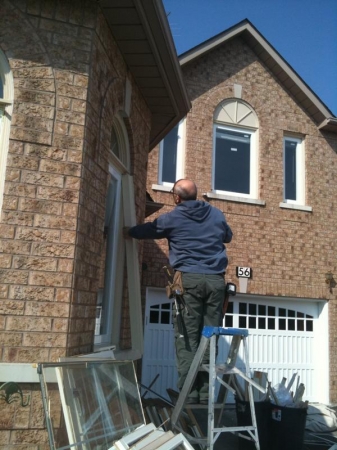 Window replacement is the best way to increase value and aesthetic look of your home. Replacement of old and damaged windows is a wise and efficient investment which can save your money on your electricity bill. Replacement of old windows is the simplest way to increase your home efficiency and reduce energy costs up to 25%!
Window replacement can also improve the interior and exterior appearance of the house, enhancing it with a fresh and stylish appeal.
You'll be surprised with the wide choice of excellent quality window replacement options for you to choose from. We suggest affordable, convenient and eco-friendly window replacement solutions for commercial and residential clients throughout Toronto and Mississauga. At www.nordwindows.com you will find wide range of different types of vinyl windows and patio doors for easy and quick replacement. Vinyl replacement windows are easy to maintain, affordable, cost-efficient and energy saving. They never need painting, are waterproof and easy to clean. Vinyl windows come in a variety of shapes and sizes, being very easy to customize.
You'll be surprised with the wide choice of excellent quality windows we provide. If you require more detailed information about our window replacement services in Toronto and Mississauga, please feel free to contact us by phone or email – we will be glad to answer all your questions!