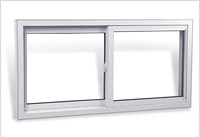 Each Double hung window and Double Slider Window has two sashes that operate. Double hung windows operate by lifting or sliding the bottom sash up and the top sash down, while double slider windows have one sash that slides horizontally from the left and one from the right.
The double hung casement window is probably the most familiar double slider window type. Double slider windows are appraised for their simple design and ability to suit any style. Double slider windows are easy to install and provide maximum ventilation to large areas.
Neat double hung replacement windows will also save your money by lowering your energy bills. You can lower your energy bills even more, having installed double glazed windows (or double pane windows).
Double glazing replacement windows are widely used in Toronto and Mississauga. You may be sure, that your double gazed or double pane windows will be repaid in few years. Our vinyl double hung windows are made with the use of the newest technologies; at the same time our double hung window prices are extremely affordable.