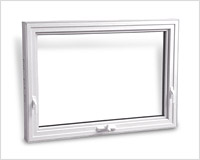 Awning window is a type of windows, hinged at the top and open out at the bottom using a crank handle or with the use of pull chains so that the sash opens outward. Awning windows can be used alone or in combination with casement windows . Replacement awning windows are the easiest way to boost your ventilation level. Window awnings are ideal for homes and offices, as they let the air circulate without exposing the room to rain. At Nord offer high quality vinyl awning windows at reasonable prices. Awning windows provided by our company are available in areas of Toronto and Mississauga. In case you are interested in awning windows for your home or office, feel free to contact us and we will deliver them timely and at a moderate cost.
Window installation is a great way to enhance appearance and value of your home, improving interior and exterior beauty of the building. Moreover, window replacement can significantly reduce your electricity bills and make your house safer. For all your window replacement needs in Toronto, Nord offers wide variety of window installation and window replacement services to choose from.
With over 12 years of experience in window installation and replacement, Nord offers professional solutions for any window installation project. Dedication to efficient windows installation and exceptional person attention to each client make Nord the #1 provider of windows and doors installation and replacement services in Toronto area. All of Toronto Nord Windows' products are safe, energy efficient and made of high quality materials. Whether you choose awning, slider or double casement windows for your installation project, professionals at Nord will deliver the highest quality products to you and carry out professional installation services. Our professional warranty covers each window installation and window replacement project. Be sure you will avoid stress with Nord.
At Nord we do not just sell and install windows in Toronto, we make sure our customers get what they need and what they have expected to!